Everything should start with a clear strategy!
For us that means that we need to determine what service our clients are wanting to deliver to the customer, and at what cost. We specialise in helping understand your customers' needs and channel preferences and to develop your service delivery plan. We bring an end to end methodology that is the glue to having your enabling tools working for the business not, as is often the case, technologies layered over a legacy operational model.
We understand customer contact behaviour and offer a unique balance of technology, innovation and human interaction expertise to deliver on a planned customer experience (PCE). It sounds simple, but in building this PCE it's finding and dealing with the tipping points between the theoretical and actually deliverable. At that tipping point a reasonable discussion can determine the true trade-off required to make a solution work.
We offer a customer contact analysis service that could be as simple as an "as is" review of your existing operation or PCE flows or incorporate more comprehensive research into your multichannel capability and how these all align to your customer expectations and value proposition.
Our expertise encompasses, first and foremost enabling channels specifically through the phone and digital interfaces that then get resolved in automation (including Ai) or human support.
But of course much more that ensures successful implementation and operation;
Channel shift strategies, driving customer migration to appropriate channels
Service differentiation, delivering service at the right cost to the right customer/enquiry
Workload distribution and routing
Customer satisfaction and Net Promoter Score (NPS), understanding key drivers to step-change performance amongst these metrics
Contact centre operations and expertise in key relationships between ASA and NPS, ideal service level,
Agent/CSR competence v associated skill and how to build an operating model to deliver the best outcomes
Voice Talent selection and coaching
Transition toward virtualisation, centralised models, insourcing/outsourcing & home working
Learning and development needs analysis
Leadership development and performance improvement
Operating model design
Testing of your channels using the best of the automation tools available
So Why Choose Flare?
1. 'Hit the Ground Running' Expertise for the Business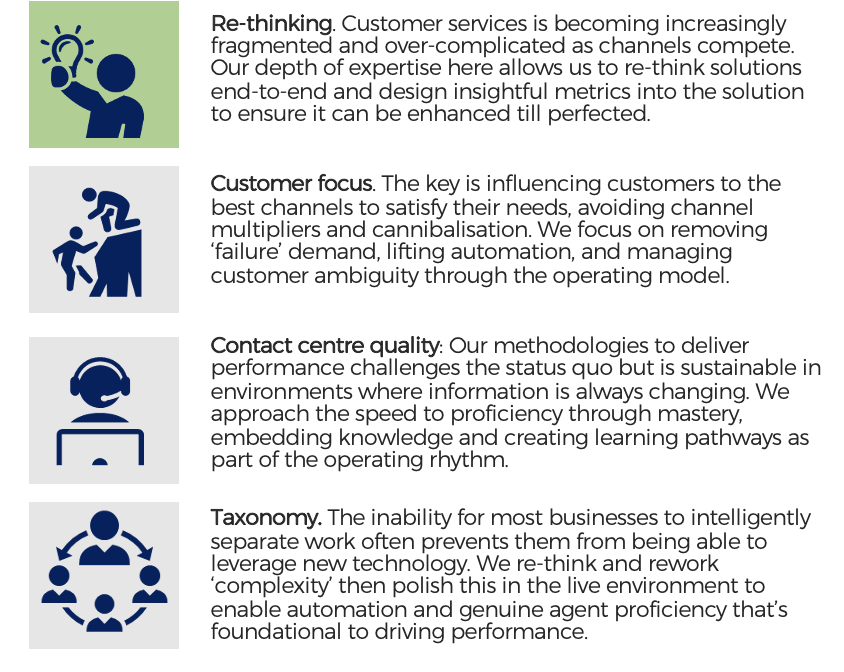 2. Increased Confidence for Stakeholders